SOUTH FLORIDA CRIME COMMISSION
CRIMINAL JUSTICE ASSISTANCE COUNCIL
OUR GOAL IS TO ENHANCE THE CRIMINAL JUSTICE SYSTEM
THE SOUTH FLORIDA CRIME COMMISSION IS EMPOWERED TO MONITOR THE EFFECTIVENESS AND TO HELP INSURE THE INTEGRITY OF THE CRIMINAL JUSTICE SYSTEM IN SOUTH FLORIDA.
COMMISSION OVERVIEW
THE SOUTH FLORIDA CRIME COMMISSION (S.F.C.C.), ESTABLISHED IN 2003, IS AN INDEPENDENT, NON-PARTISAN, NON-POLITICAL CRIMINAL JUSTICE ASSISTANCE COUNCIL SUPPORTING THE IDEA THAT EVERY CITIZEN SHOULD BE INVOLVED IN CRIME PREVENTION AND INVOLVED IN THE INFRASTRUCTURE THAT IS CHARGED WITH PROTECTING THE PUBLIC. OUR MISSION IS TO ACT AS A CATALYST TO BRING FEDERAL, STATE, COUNTY AND LOCAL LAW ENFORCEMENT AGENCIES TOGETHER TO FOCUS ON INNOVATIVE CRIME PREVENTION METHODS AND TO IMPROVE THE SAFETY AND SECURITY OF THE CITIZENS OF SOUTH FLORIDA.
THE SOUTH FLORIDA CRIME COMMISSION IS A FLORIDA NON–PROFIT CORPORATION AND IS CLASSIFIED BY THE IRS AS A PUBLIC CHARITY.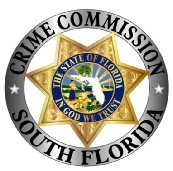 "Assisting Law Enforcement and the Community in Crime Prevention and Awareness"